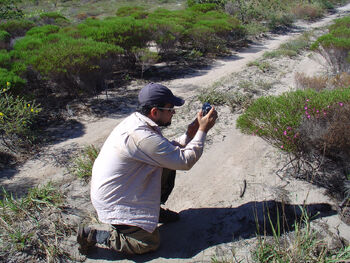 Opiliones Wiki thanks to all these talented people who graciously allowed (or are being/will be/should have been contacted for allowing) the fair use of their material here. Any offending material may be removed at any time by anyone - remember, this is a wikia.
Macro Photographs
A to E
Abel Pérez [1]
AJ Cann [2]
Andrew Snyder [3]
Anna-Dora Sartorio, Kandersteg, Switzerland [4]
Arthur Anker [5]
Axel Schönhofer [6]
Barbara Knoflach [7]
Bernardo Segura [8]
Bruno Garcia Alvares [9]
Christian Komposch [10]
-craigulator- [11]
Daniel N. Proud [12]
Dragiša Savić [13]
Enio Branco [14]

G to O
Glauco Machado [15]
Gonzalo Giribet [16]
Ivo Antušek [17]
James Clay [18]
James Koh, Singapore (flickr "wj") [19]
Jan van Duinen [20]
Jan von Bodegraven [21]
João P. Burini [22]
Jonathan Michaelson [23]
Jörg Pageler [24]
Marshal Hedin [25]
Nicky Bay [26]
Ondřej Machač [27]
Óscar Méndez [28]

P to Z
Paul Bertner [29]
Paul Richards aka "Invertebrate-images" on flickr [30]
Pierre Oger [31]
Ricardo Pinto-da-Rocha [32]
S.E. Thorpe [33]
Salvatore Canu, Sardinia [34]
Sarah Boyer [35]
shane58 [36]
Sidclay Dias [37]
Stephen Luk [38]
Steve Lew [39]
Steve Reekie [40]
Steven Yoon [41]
Stuart Longhorn [42]
Ulla N. [43]
Walter P. Pfliegler, University of Debrecen, Hungary [44], [45]
Žilvinas Pūtys, Vilnius [46]

Other images
Gernot Kunz [47]
Mahmud Yussop[48]
Rogério Bertani [49]
Tito Garcez [50]
Wally Gobetz [51]

Websites
fotocommunity [52]

Community content is available under
CC-BY-SA
unless otherwise noted.